// 1. Black leather jacket from Zara // 2. Olive green overall dress from ASOS // 3. Black linen skirt from ASOS // 4. Rosy Mauve bikini from Free People // 5. Paint Water Mug Set // 6. Wooden Forest Story House //
So I am having the kind of day where I spilled my coffee cleaning up my spilled coffee. Where I forgot to pack lunch and ordered a sandwich. Got the sandwich, only to realize I'm wearing red lipstick today, creating an unwelcome challenge in staying tidy and looking like I've got my shit together.
Sooo, why not focus on the material, because sometimes tangible objects are easier to relate to, and since I haven't decided exactly how I feel about Wednesdays yet, it seems like the obvious choice. Just because, complaining about general facts of life lies a little too close to the surface today.
Therefore, focus is on the hunt for the perfect black leather jacket, because mine has been worn to pieces. Focus on the items I feel like I can safely add to my spring wardrobe to upgrade myself slightly and feel like a new person. Also, paint water mugs! Aaaand this perfect little wooden fort that will be one of my first projects when I am finally in a situation with control of a back yard–children or not. I imagine light Norwegian summer nights with blankets, books and wine. Yes?
It's Monday again and I am looking for anything to keep me excited and motivated to kill it the upcoming week. Why not start with a couple of fun recipes and some gorgeous art??
This smoky curried coconut lentil soup, the cheapest, most delicious meal that I actually looked forward to having for lunch because I had leftovers for days!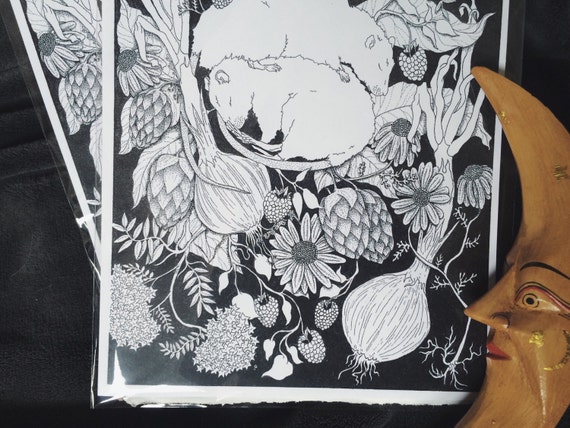 My dear friend Ashley finally opened up her Etsy shop and there are so many good pieces that you need to see! The one pictured above is going on my wall as soon as I get around to buying a frame for it!
Peach wine slushies! So simple, yet they look so delicious! I am just waiting for the next time my sister comes to visit so we can whip up a batch and enjoy the fact that it almost feels like summer..!!
Last week was a dud. The last couple of weeks, actually. Creativity levels have been at a standstill and there are about half a dozen drafts hanging out behind the scenes with a couple hundred words and no ending.
I've been wrapping up a website for Stella Collective between beats at work, but finding less and less time for my personal projects. I haven't touched my paints in months and the easel J got me for my birthday hasn't even been taken out of its box. And all this, despite the fact that March has so far been a full-blown spring month, with sunny weather and comfortable temperatures. Last week week I got to spend a day at a dairy farm taking pictures, which was a welcomed break from the regular eight hours I spend at my desk, despite the distinct farm smell I ended up carrying around for the rest of the day.
But then, in a beer-induced trip to the mall (I was not driving, fret not) I found myself searching for the perfect pair of flares to start my spring off on the right leg, and found them? Who would have thought, in the sales section, 50% sales prices, at the Gap, I would find my match for the wholesome price of eight dollars!
Button fly, high waisted, frayed hems, what is there not to love? I opened the door to the dressing room and was met with a "you look short" (long torso problems,) but after some sufficient shirt tucking, we were both convinced that they were the best thing to happen to my less-than-long legs.
This weekend is the first free one I have had in well over a month, which is why it has taken me this long to upload and edit these photos from New York. My mom and I met "halfway" for my birthday, her from Norway and me from Nebraska, to spend a long weekend eating and roaming the streets together.
Literally, other than a quick trip to the Met, a run through the Guggenheim and a couple of freezing minutes at Ground Zero, all we did was explore, eat and spend time together. This has been the first time I haven't been home for more than six months, and at this point I am already going on eight months since I was in Norway last. Seeing my mom was the best gift I could have gotten, and exactly what I needed in the middle of a stressful time at work and frustration with my situation.
The four days we got to spend in the big apple were absolutely freezing, and we ended up running out of clean clothes because we wore them all on top of each other. Seriously, I wore a dress with tights AND pants on day with two pairs of socks, a sweater and my jacket on top of that. Layers will forever be my life saver.
Still, a weekend passes too quickly and while I carried my camera with me everywhere, the pictures I took barely cover the meals we had and places we went, but it should give a small glimpse into how beautiful our weekend was, despite the cold, snow and delayed flights.
---
So it's February and I am stuck in an ongoing discussion with myself on how many tabs a reasonable person would keep open at all times, and whether closing any of them will do me more harm or good. I just counted 19 and that's after closing a couple I figured I could do without. Seriously, this winter blizzard weather has me planning ahead and focusing less on today and more on tomorrow. Lighter times, warmer times, more active times. You know the drill.
Still, I have been picking up a lot of the things I started and trying to focus more on getting things done rather than starting new projects on top of more projects. Such as the baby mittens I wanted to get done for my nephew for Christmas. Or the taxes I should have filed last weekend and the four books I'm a couple pages in. One of the most satisfying things I get to do at work is to check of the box after fulfilling a task. One little click and the line of traffic disappears from my working dashboard. Lately I have been finding myself wanting to track my time when I do mundane tasks at home, like dishes or watering my plants, and while this makes no sense at all, allowing myself to check items off a tangible to-do list never hurt.
So here is to my last month as twentythree and considering the new year to start as of three weeks from now. Let's wrap up those unfinished projects, pay off the last bit of that credit card bill and start life as twentyfour with a fresh slate.
---
So I've been listening to the David Bowie station on Pandora for two weeks straight and drowning in my third, or fourth, cold of the season. The first three weeks of 2016 have been a whirlwind of busy, and an adjustment to my new post-grad life, where breaks are a thing of the past.
Therefore, in honor of quitting my part-time job here's a list of positivity to keep me on top of my game despite the ickiness outside.
Tomorrow is Friday AND pay day AND I have sushi plans with a couple of lovely ladies.
Saturday I am driving up to Omaha to participate in a Hand-drawn to Digital workshop. Finding time to practice my own passion is exactly what I need right now.
David Bowie Pandora Station. Seriously; The Beatles, Bowie, The Cure, Led Zeppelin, it all helps.
Happy news from other bloggers I've been following since my most awkward years.
Spontaneous plane ticket purchases. I get to see my mom AND go to New York in three short weeks!
One of my favorite people got a job in Boston and while saying goodbye is hard, I can't wait to see all that she will accomplish
Plants. I received some beautiful hand-made terrariums from my boyfriend's mom for Christmas and hopefully this year I will learn how to keep green things alive and turn my sunroom/office into a functioning jungle.
Focusing more time and energy on finding peace, with myself and with my decisions. I have a tendency to let my restlessness get the best of me and am always bouncing between all my options, but this year I am trying my hardest to become more grounded in the now.
Good hair days when they happen. Seen from the side because I am NOT having a good face day and I blame it all on this cold.
The last couple of days snow has been floating in the air, which makes winter just a little bit more tolerable.
Yesterday I finally mustered up the courage to quit my serving job and will now be focusing all my attention on my full-time job, freelancing, boyfriend and cat.
These last weeks have been a whirlwind of adult, and I am still unsure how to brace myself for the challenges ahead.
Somehow I always come back to this theme. My constant pull between the future and my subconscious Peter Pan syndrome. What to do, where to go, and all the decisions are becoming more and more real every day.
I received my first "real" job offer last week, and while I have been at it, living the 40-hour work week dream, the real commitment is here screaming in my face. My mind is doing the freelance vs. safety dance and I find myself restless for everything I've never seen, like always.
This time in my life, in most people's life, I am beginning to understand, is like this. And I am trying to be at peace with that. Writing lists, taking breaks to doodle at coffee shops and binge-reading OK REAL are all included in my peace plan. If anyone else has any tips on how to survive your early twenties, I'm all ears!
It's been two weeks. I graduated college, celebrated my graduation and now I am living in a strange freelance-type post-graduation bubble. Bills have been paid, plane tickets bought, and finally today I dropped off my passport along with a stack of papers and sent it off in the mail. While I know it's necessary to receive my visa, this process has been more than stressful.
These days I am developing a new website for local boutique and creative merger, Stella Collective. The job hunt has been delayed until further notice, and until I finish my trek around China with one of my closest childhood friends. In two weeks I fly back to Norway, after ten days at home I jet off to Spain with my family, and after another week or so in Norway I take off for China and Thailand, a journey that will take up a good month of my life.
While restlessness finds its way into my life, I am trying to focus more on all the good I can get done. I have an exciting project in what I am working on with the people over at Stella, and I am finally finishing up a book that is not part of a curriculum. Fiction, I am coming for you.
Also, I finally have time to enjoy life with some of the badass women of Lincoln. Hannah, being one of them, snapped these photos of me as we were out exploring Wilderness Park, enjoying the spring weather. Crossing my fingers it warms up even more and I can further expand on the baby sunburn I started the other day.